---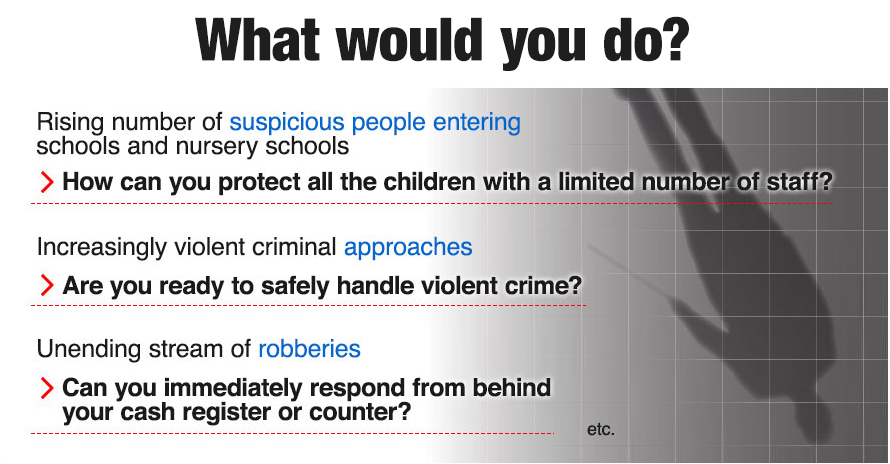 Step1 Works at a distance
NetLauncher lets you catch criminals without touching them, and without anyone getting hurt! It can be used to handle criminals even when there is no-one around to provide help. (Discharge range: 2 to 3.5m)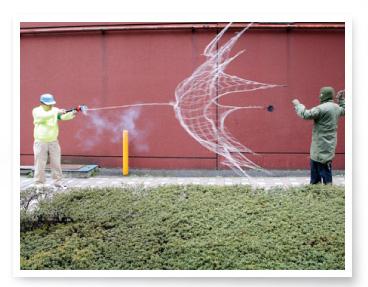 Step2 Easy, single action operation
There are two types of NetLauncher, one which works by pulling, like a party popper, and another which works by pushing a button. Both can be easily operated with a single action! There is no complex usage procedure, and neither requires strength!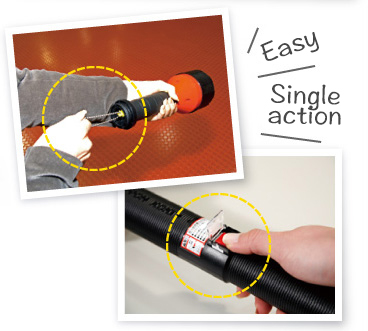 Step3 Captures criminals in a tough net
NetLauncher is made from the same material as parachutes, and can't be easily ripped apart by hand. The more criminals struggle, the more entangled they become.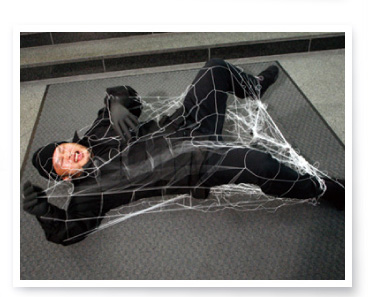 Step4 Can be used outdoors
NetLauncher can be used safely both indoors and outdoors to meet a wide range of usage situations. (Discharge range of 3.5m when wind speed is 3m/s)
Step5 ST-S and AL Type II-S only Drawstring for even tighter entangling
The NetLauncher lineup includes products with drawstrings, which can entangle criminals even more tightly by pulling on the cord after launching the net.
* Never pull the drawstring with ones bare hands. Doing so is extremely dangerous.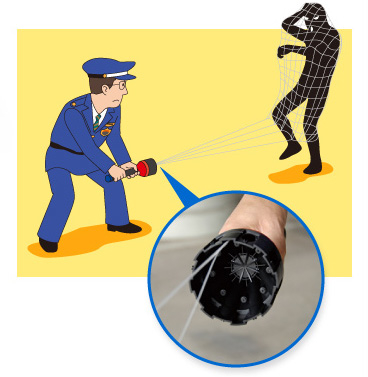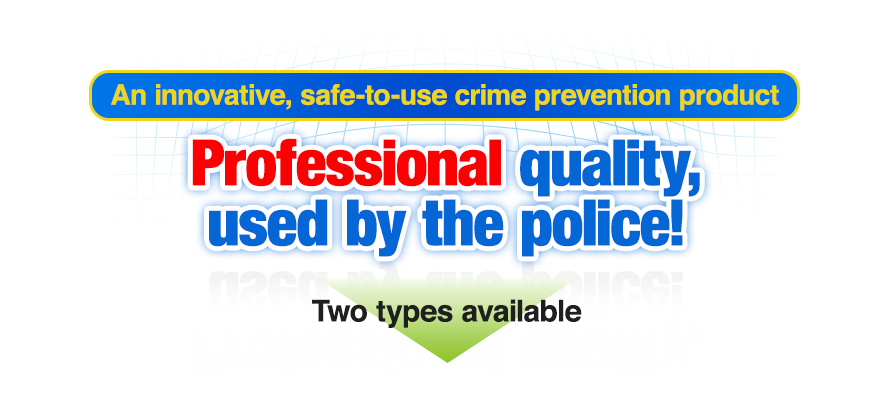 Easy to use ST Series
NetLauncher ST-S With drawstring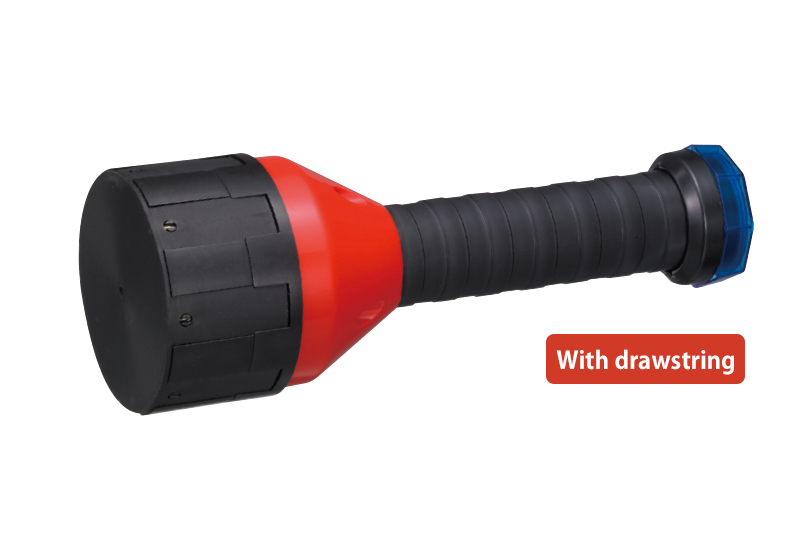 NetLauncher ST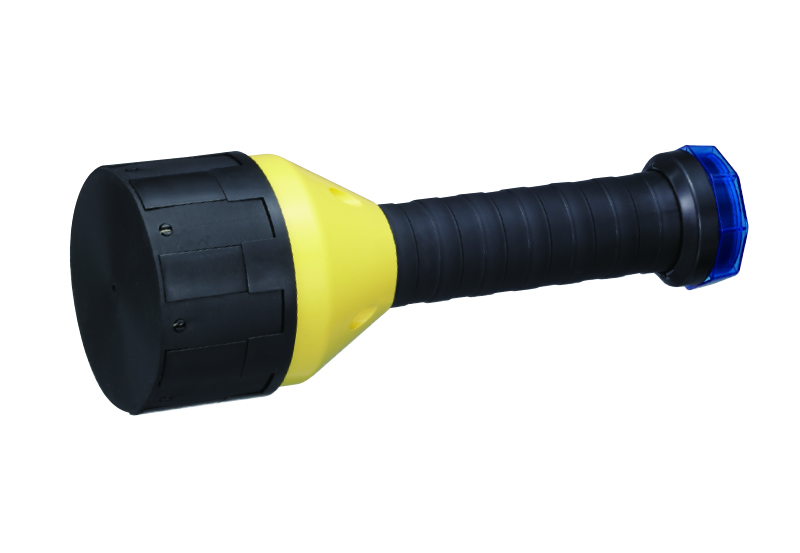 Multiple use, alarm-equipped NetLauncher models AL Series
NetLauncher AL Type II-S With drawstring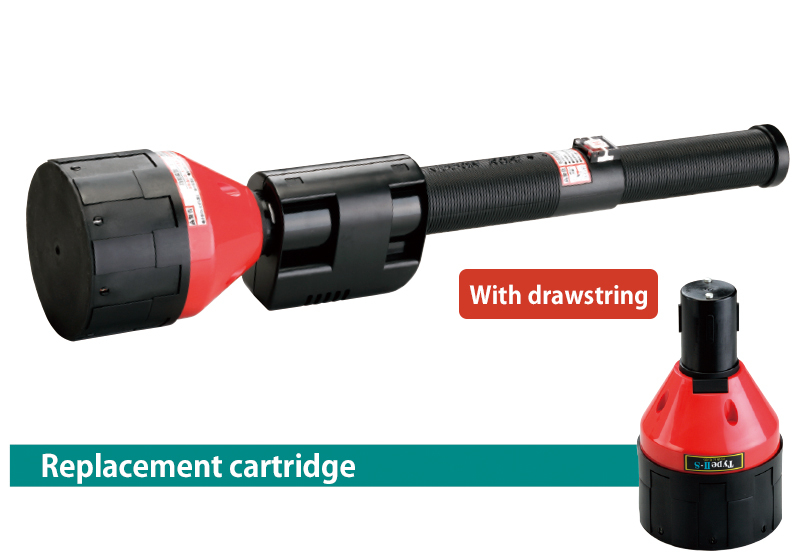 NetLauncher AL Type II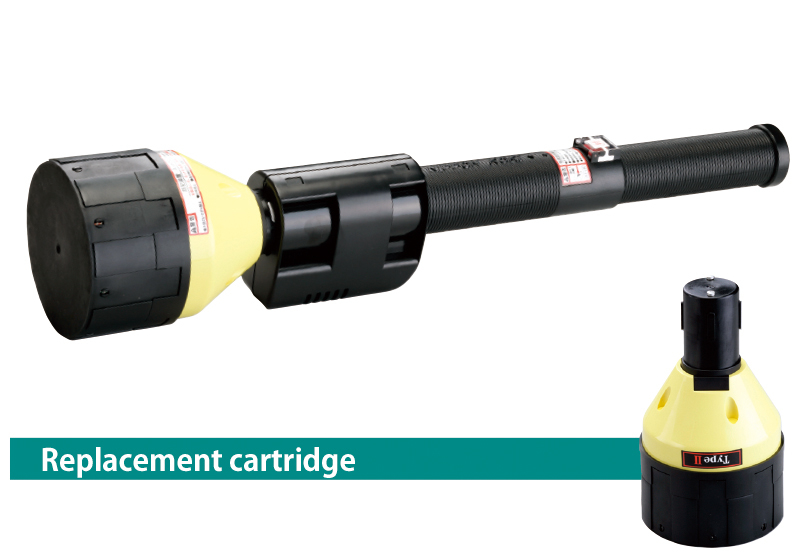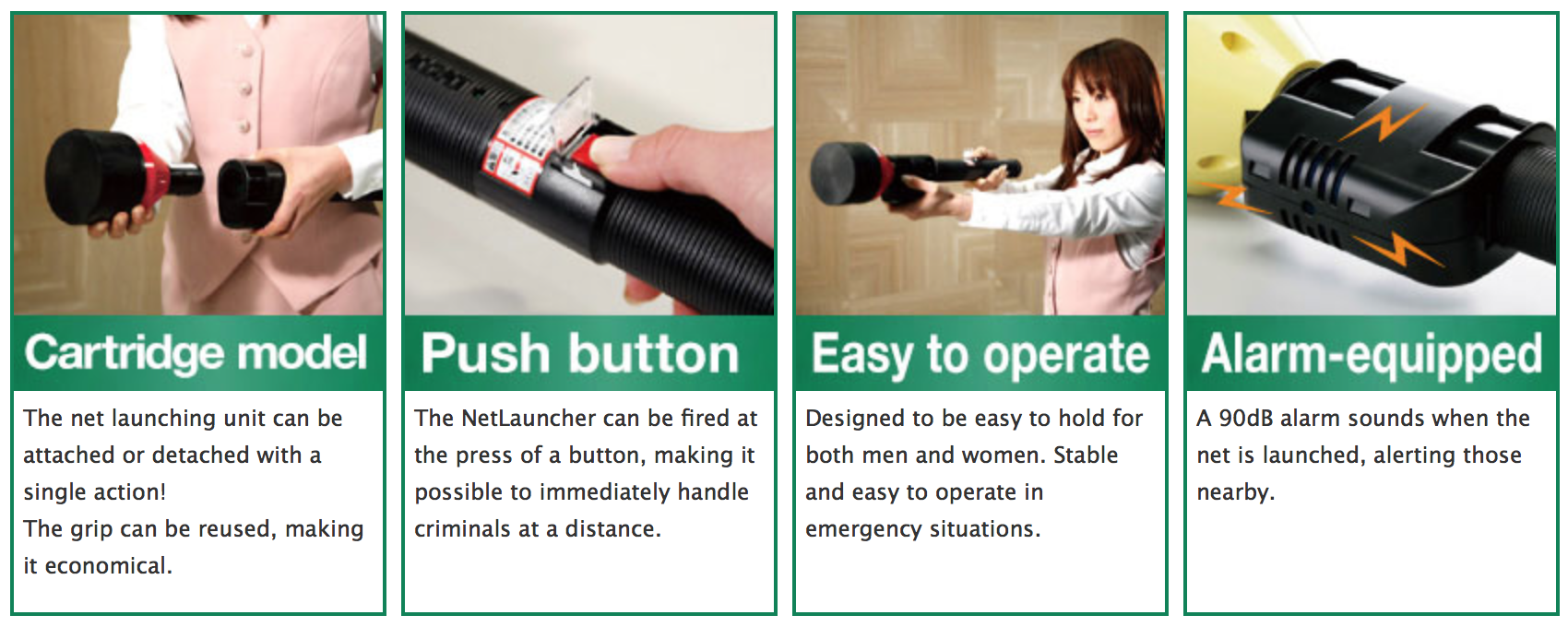 Continued use is possible through our economical replacement service
ST series
The replacement service is a convenient service that allows customers who buy replacements for their NetLaunchers to do so at a reduced price.
NetLauncher (ST series) products which meet either of the following requirements
Products have been used in crime prevention training or actually used against a criminal
Four years have passed since the product was purchased (expiration date)
Convenient accessories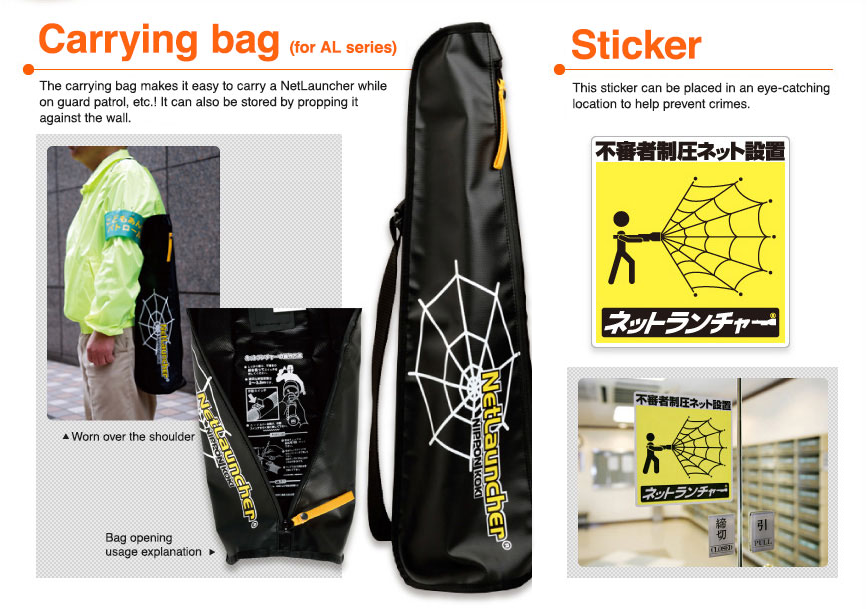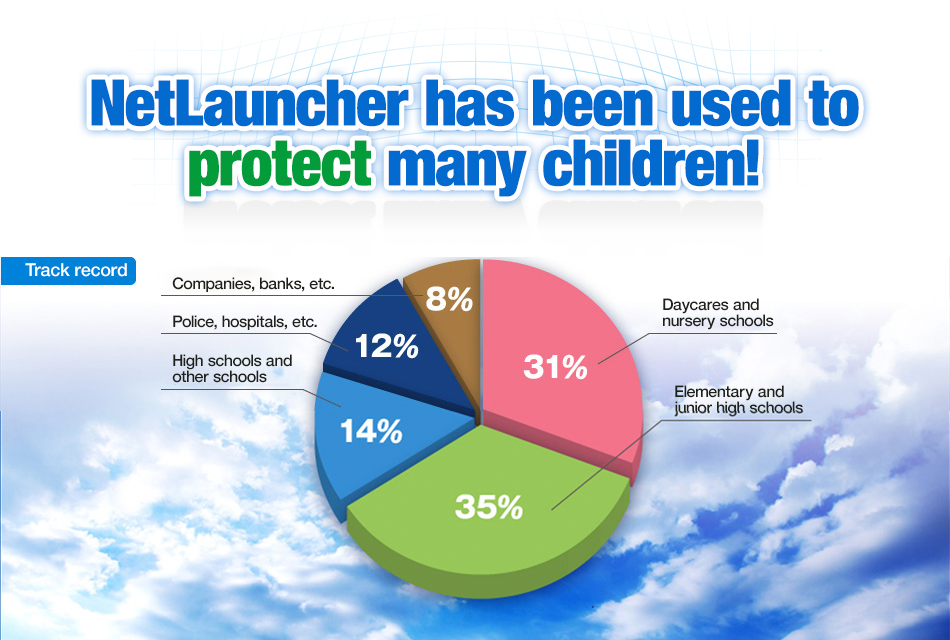 Daycare principal
We were worried about the ability of our staff, who are all women, to protect children from criminals. NetLauncher is easy even for women to use, giving us a greater sense of security.
Elementary school vice-principal
We had a sasumata spear fork, but it was hard to use. NetLauncher is a great tool which can launch a net at the push of a button, and it's great that it can be used without coming into any contact with a criminal.
School boad member
We held a crime prevention workshop which used the NetLauncher, and the teachers were startled to see how effective it is. I am convinced that the NetLauncher is a crime prevention tool that we can rely on.
Police officer
This device can be used safely. It is perfect for suspects armed with knives who are acting violently. I'd like to use it together with a sasumata spear fork.
NetLauncher has also been used in disaster-struck areas to capture animals!
NetLauncher has been used in zoos and struck by the Great East Japan Earthquake to capture animals safely without harming them!
*Please note that the NetLauncher is designed for use against humans.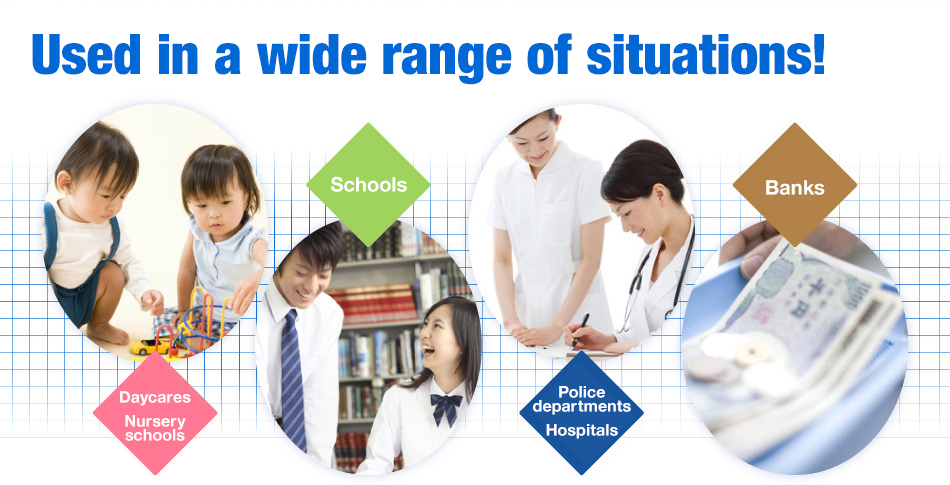 ---
NetLauncher is a registered trademark of Nippon Koki Co., Ltd.
As used herein , ® denotes registered trademark status in the JAPAN only.